You're invited to contribute to our Postcards from Perth !
Are you handy with a camera? Care to share Western Australia's iconic sights with the world?
Be a part of the official Postcards from Perth for the 2023 World Transplant Games.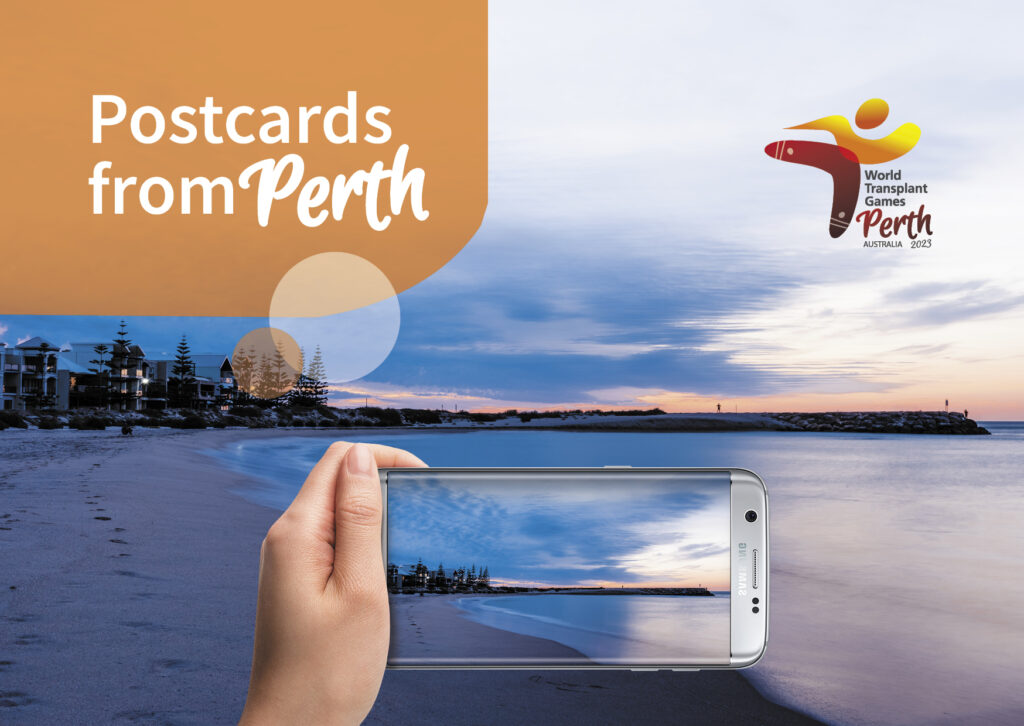 About the Campaign
Transplant Australia invites the community to share photos of their favourite Perth destination, hideaway or any place that says 'This is WA' to promote the host city of the 2023 World Transplant Games.
Postcards from Perth is a grassroots campaign to connect WA's transplant community with global transplant recipients while promoting Perth, in all its wonder and beauty, as the host city for the 2023 World Transplant Games.
Step 1.
Take a digital photo that you would like to see on a postcard promoting Perth or Western Australia.
Step 2.
Complete the entry form and upload your photo(s) in the highest resolution by September 26, 2021. An entry form will be needed for each photo.
What happens next?
A selection of photos will be chosen as the Official Postcards from Perth. With the help of Media Junction, our marketing agency appointed for the Games, the postcards will be designed and printed.
If you wish, your name as the photographer will be included alongside the location and the first name of any subject featured such e.g.: 'Jessica and Sandcastle, City Beach, Perth.'
In October 2021, Transplant Australia WA will host a writing day and send the postcards to transplant recipients around the world. You can email PEC@transplant.org.au to register your interest in participating in the workshop.
Anyone who receives a postcard will be encouraged to take a selfie and post it on social media to further promote the 2023 World Transplant Games.
If your image is chosen, you will receive a limited-edition World Transplant Games cap and the satisfaction of knowing you have helped to contribute to a wonderful event. Please note your image may also be used in other materials to promote the Games.
Handy Hints
Imagine the image on a postcard. Often a horizontal/landscape image will work best. Make sure you have something featured in the shot. Blue sky is great as a backdrop.
Don't limit your theme to typical tourist shots. Perhaps you have a family member who loves to paddleboard or build sandcastles or bushwalk. We're aiming for a selection of themes such as – tourism attractions, beaches and blue skies, flora and fauna, perhaps a quokka selfie and some friendly faces too.
Make sure anyone featured in the photograph has given their permission. If your photo is chosen as one of the official Postcards from Perth, we will be asking you to confirm this.
Please avoid digital manipulation of the image/s if possible. This will ensure the designer can adjust any images if required for printing quality.
TERMS & CONDITIONS
By submitting an entry form, you hereby accept these Terms and Conditions.
Anyone is eligible to enter.
Entries must be received by September 26, 2021.
The photo should be submitted as a high-resolution JPEG (as high as your camera will allow)
The photo must be an original creation – no copyright images may be used.
The participant must certify and warrant that the submitted photo(s) does not violate the rights of a third party or any copyright.  Any person(s) featured in the photograph has granted permission to be portrayed as shown. Transplant Australia is not responsible for intellectual property violations that might have resulted through the submissions of photos.
By submitting the photo(s), the participant agrees to grant Transplant Australia free of charge the right to use the photo in any manner and media, including without limitation, the right to publish, enhance, adapt, distribute, copy, display or translate in printed or electronic media even if they are not the final entries selected for the Postcards from Perth campaign.
Participants may be asked to take part in publicity activities.
Transplant Australia reserves the right to modify or cancel the contest of any of the arrangements, directly or indirectly, of the Postcards from Perth campaign.