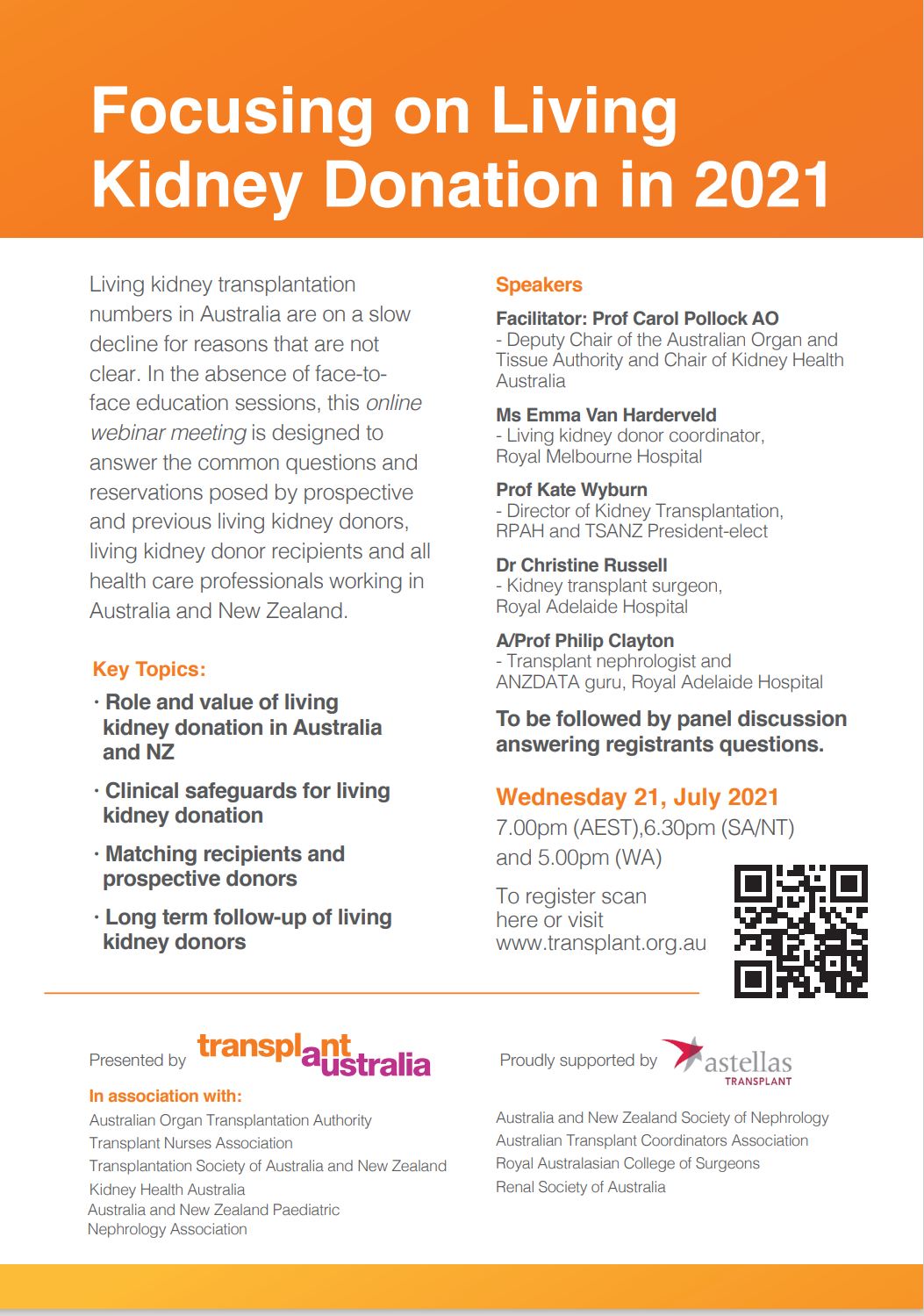 We are pleased to announce that Carol Pollock, Ms Emma Van Hardeveld, A/Prof Kate Wyburn, Dr Christine Russell, Dr Philip Clayton will be joining us live on Transplant Talk on Wednesday 21st July via zoom.
Topics that will be cover included:
Acknowledge the progressive decline in living kidney transplant procedures in Australia
Encourage discussion with individuals' own health professionals to further discuss queries/issues raised in the webinar

Prospective Living Donors:
To explain the benefits, reality and risks associated with living kidney donation
To outline the stages of the living donation process –
Pre: education and work-up
During: hospital procedure and care
Post: after-care and follow up

Existing Living Kidney Donors:
To emphasise the importance of yearly medical follow-ups
Update on living kidney donation outcomes

Dialysis Patients:
To gain understanding of the living kidney donor journey
To assist dialysis patients in approaching prospective living donors

Kidney Transplant recipients (from living donors):
To encourage recipients to support their living donors by encouraging them to have their regular health check-ups
Suitable for Prospective living donors, Existing living donors, Dialysis Patients, transplant recipients who have received a kidney form living donor and Health care professionals working in living kidney donation.
Join us on Wednesday 21st July @7.00pm, 6.30pm (SA and NT) and 5.00pm (WA)
Registration:
– https://zoom.us/meeting/register/tJMrf-qvqDguHtdzRWfyYyYSPLH8dAou1bGx
Transplant Australia is committed to helping everyone be active and healthier around their transplant. But of course family members, living donors, donor families and others are all welcome.
Speakers Bio's