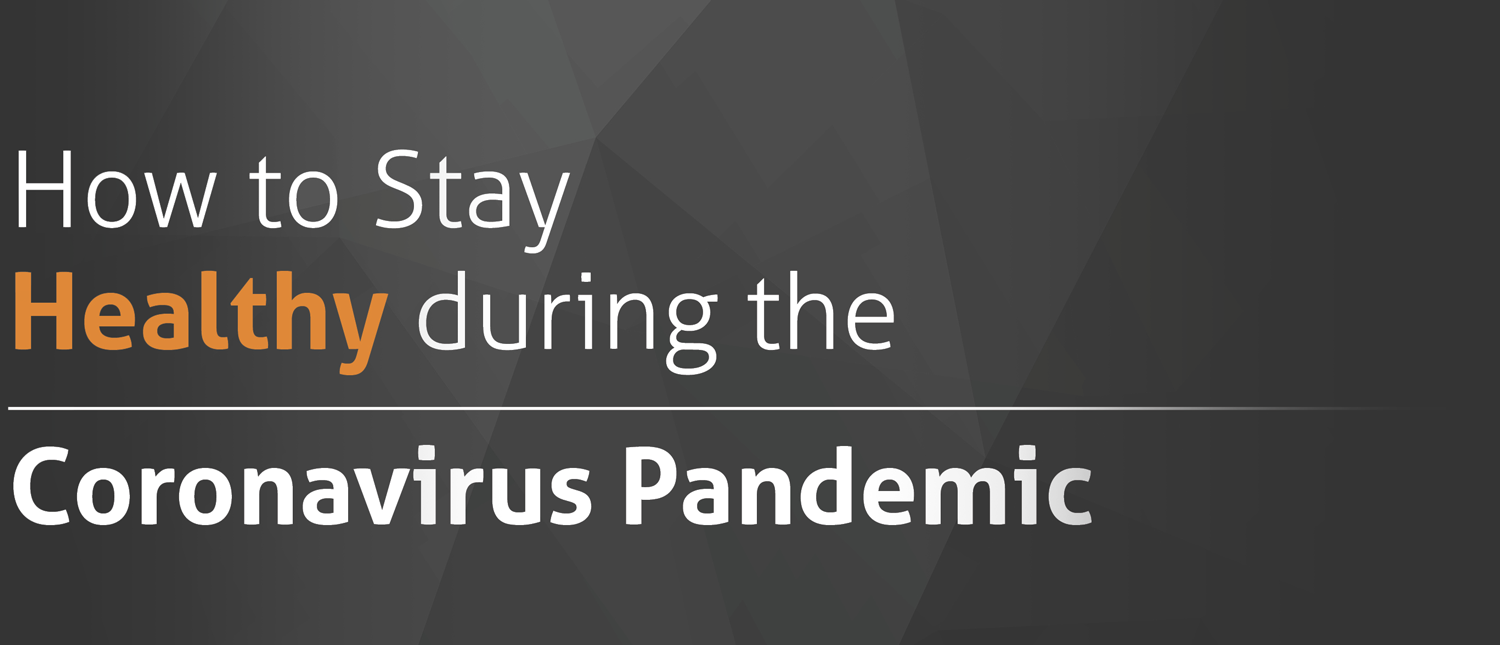 Transplant Australia is very concerned for the health and welfare of the Australian Transplant Community during the Coronavirus Pandemic. We are working with doctors (TSANZ) and nurses (TNA) to bring you the latest advice and information to keep you and your family as safe as possible.
DonateLife is closely monitoring COVID-19 developments and what they mean for organ donation and transplantation.
The safety and wellbeing of all Australians is our utmost priority.
While hospitals are currently still performing lifesaving organ transplants, the rapid change in status surrounding COVID-19 means there is likely to be an impact on the system in coming days and weeks. We will continue to closely monitor developments and provide regular updates through our social media channels on COVID-19's impact on organ donation and transplantation.
Organ transplant recipients and others with underlying health conditions are urged to rigorously adhere to health advisories issued by the Department of Health as well as local and state and territory health departments.
Transplant recipients seeking more information on the potential impact of Covid-19 on vulnerable people should call the 24/7 Coronavirus Health Information Line on 1800 020 080.
Transplant Australia is very concerned about the coronavirus, COVID-19, and its potential impact upon the transplant population.
As you can appreciate the information is changing daily which is making it hard to give definitive advice. We have already recommended all recipients adopt the safe hygiene practices issued by the World Health Organisation.
But for more specific information relevant to your own states and own circumstances we strongly advise you check to see if your transplant unit has issued any guidelines.
In the meantime it is agreed that the Guidance on Social Distancing for protecting older people and vulnerable adults in the UK is relevant and should be reviewed by all recipients. It is reprinted below. In addition on this page we will reprint any guidelines that are issued so that you can review them and adapt them to your own needs. For example this Advice has been issued in Western Australia from the Charles Gairdner Hospital and should be reviewed by all recipients.
Generic Flyer for people at risk COVID -19 (3)
As more advice comes to hand we will share it here.
Please everyone. Stay safe, isolate as much as possible, wash your hands, observe good hygiene practices and look after your health by exercising, reducing alcohol intake and eating well.
Make sure you stay connected with family and friends. Listen to what the health authorities are saying, don't rely too much on all the noise on social media.
We will get through this.
Kind regards
Chris Thomas
CEO
Background Information and Guidance
Please note this is relevant specific to the UK but much of it is relevant here in Australia
This guidance is for everyone. It advises on social distancing measures we should all be taking to reduce social interaction between people in order to reduce the transmission of coronavirus (COVID-19). It is intended for use in situations where people are living in their own homes, with or without additional support from friends, family and carers. If you live in a residential care setting guidance is available.
We are advising those who are at increased risk of severe illness from coronavirus (COVID-19) to be particularly stringent in following social distancing measures.
This group includes those who are:
Aged 70 or older (regardless of medical conditions)
Under 70 with an underlying health condition listed below (ie anyone instructed to get a flu jab as an adult each year on medical grounds):

Chronic (long-term) respiratory diseases, such as asthma, chronic obstructive pulmonary disease (COPD), emphysema or bronchitis
Chronic heart disease, such as heart failure
Chronic liver disease, such as hepatitis
Chronic neurological conditions, such as Parkinson's disease, motor neurone disease, multiple sclerosis (MS), a learning disability or cerebral palsy
Problems with your spleen – for example, sickle cell disease or if you have had your spleen removed
A weakened immune system as the result of conditions such as HIV and AIDS, or medicines such as steroid tablets or chemotherapy
Being seriously overweight (a body mass index (BMI) of 40 or above)

Those who are pregnant
Note: there are some clinical conditions which put people at even higher risk of severe illness from COVID-19. If you are in this category, next week the NHS in England will directly contact you with advice the more stringent measures you should take in order to keep yourself and others safe. For now, you should rigorously follow the social distancing advice in full, outlined below.
People falling into this group are those who may be at particular risk due to complex health problems such as:
People who have received an organ transplant and remain on ongoing immunosuppression medication
People with cancer who are undergoing active chemotherapy or radiotherapy
People with cancers of the blood or bone marrow such as leukaemia who are at any stage of treatment
People with severe chest conditions such as cystic fibrosis or severe asthma (requiring hospital admissions or courses of steroid tablets)
People with severe diseases of body systems, such as severe kidney disease (dialysis)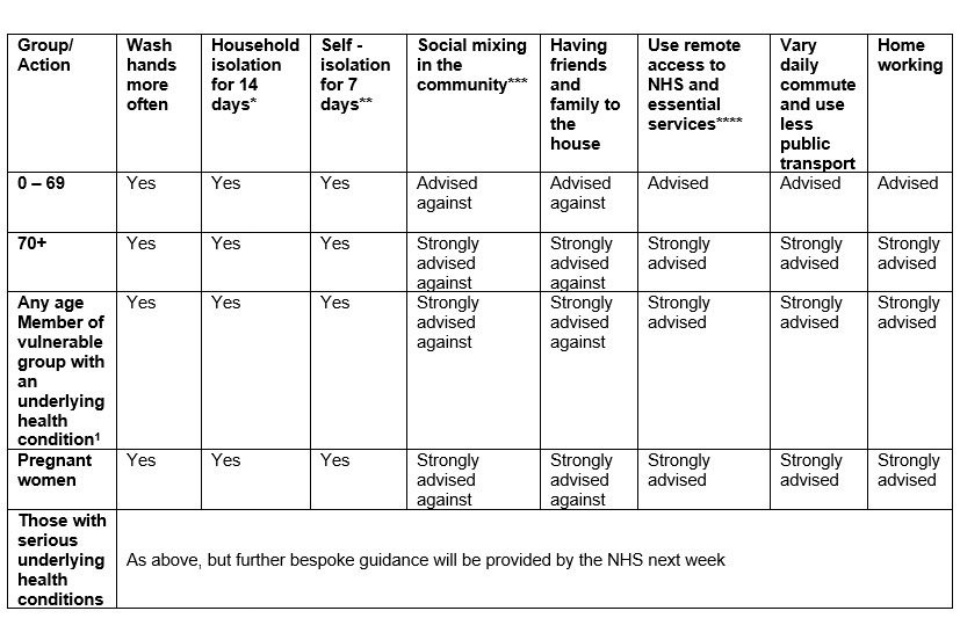 * if one member of your family or household has a new continuous cough or high temperature
** if you live alone and you have a new continuous cough or high temperature
*** for example cinema, theatre, pubs, bars, restaurants, clubs
**** for example via telephone or internet
1 such as anyone instructed to get a flu jab each year