At Transplant Australia we are launching a new initiative titled 'The Quality of Life Program' to expand the suite of services exclusively available to our members and to broaden our membership base.
The program, a key component of the Board's new Strategic Plan, aims at providing valuable information online and services to recipients to assist them live life to the fullest after transplant.
This program is designed to complement our work in staging sporting events to help transplant recipients rehabilitate and maintain their fitness post-transplant.
The overall aim is to support recipients and their families through their journey by promoting an environment that encourages and sustains their long term health and wellbeing.

The program is driven by Transplant Australia's Member Support Manager, Chandana Guha (Pictured), who is well acquainted with the transplantation world. Her daughter was diagnosed with a renal condition at the age of two and went on the transplant list at the age of 11. The effects of chronic renal disease and the impacts of a difficult post-transplant experience left her daughter feeling lost and unsupported. Chandana and her daughter experienced firsthand the need for patients to be assisted in a number of critical areas while recovering from the surgery and also in the long term.
Her experience with transplantation helped Chandana provide valuable information and support to patients and their families who were struggling like her to come to terms with life after transplant. At her transplant unit, doctors often requested her to connect with patients either on the waiting list or after transplantation to provide information and emotional support. Coming from a culturally diverse background she comprehended the challenges patients from migrant communities confronted in addition to the trials of a complex surgery.
At Transplant Australia she has found the opportunity to draw from her experience and support recipients in several critical areas through the Quality of Life Program. The program will address the following areas: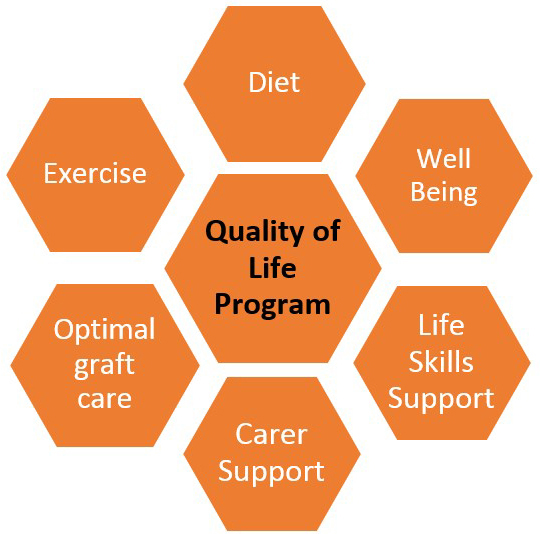 Diet – Patients gain a significant amount of weight, as a side effect of their transplant medications with the risk of developing conditions associated with obesity, chronic rejection and graft loss. The plan will provide information and tips on healthy eating, effective weight management, supermarket food guides, simple meal plans, mobile apps to plan meals on the go, and recipes that cater to recipients from culturally diverse backgrounds.
Exercise – Loss of bone and muscle mass and other conditions are side effects of the transplant medications that can be minimised or managed with exercise. Information on appropriate physical activity to manage these conditions will be built by exercise physiologists and physiotherapists for the plan. While we recognise each patient is different, the information is a guide to assist patients through their recovery path and maintain their health in the long term.
Wellbeing – Research indicates that a significant proportion of transplant patients develop depression and other mental disorders. It is therefore critical patients receive sustained mental health support to live a fulfilled life. Psychologists and mental health professionals in the field of chronic disease and transplantation are very excited to contribute to this segment of the program. It will facilitate peer support groups and blogs for recipients to discuss their concerns and be heard. The resources and information provided by specialists in this area will address challenges that recipients and particularly adolescent recipients encounter around alcohol, drugs, sexuality, child bearing and social interaction.
Information on Graft Care – Information on maintenance of the newly acquired graft is crucial to patients. Looking out for risk factors, contact sports, hygiene and precautions to take in public places are some of the issues that patients need to be aware of that will be part of the program. Comprehensive Information on immunisations and travel will also be included.
Life Support Skills – Transplantation is a life changing event and in many cases patients may need a reassessment of their skills to get back into the workforce. Information on writing resumes, honing interview skills will be included in the program. With the aid of expert social workers the program will highlight the social welfare entitlements of recipients and provide information on arrangements available to recipients while they live away from home during the first months of their recovery period.
Care Givers – Transplant patients rely heavily on their care givers for post-transplant care and it is vital for care givers to be adequately informed about the transplantation process. The incidence of depression among spousal caregivers is equal to that of survivors. Transplant Australia will work with social workers to include valuable resources and tips for care givers.
The Quality of Life program will integrate multiple initiatives to provide an exceptional experience to its members. Programs already launched are:
The exercise for life program currently underway at the Children's Hospital at Westmead and at the Royal Children's Hospital at Melbourne.
The program steered by Professor Steven Alexander and Dr Amanda Walker will pilot the effectiveness of electronic fitness devices for transplanted children in improving fitness and managing weight.
The Marks Cocks Research Scholarship – focusing on prevention of skin cancer in kidney transplant recipients.
The Quality of Life Program is headed up by Transplant Unit heads and Directors. In addition, we will partner with pharmaceutical companies associated with the transplant medications to initiate projects that will feed into the program. A working group of physicians, dietitians and other health care professional will provide expert advice and help build each component of the plan.
Importantly we are also putting together a patient advisory group to ensure the program receives input from those who have experienced transplantation firsthand.
We look forward to helping our members celebrate the gift of life and live a rich and fulfilling life after transplantation.