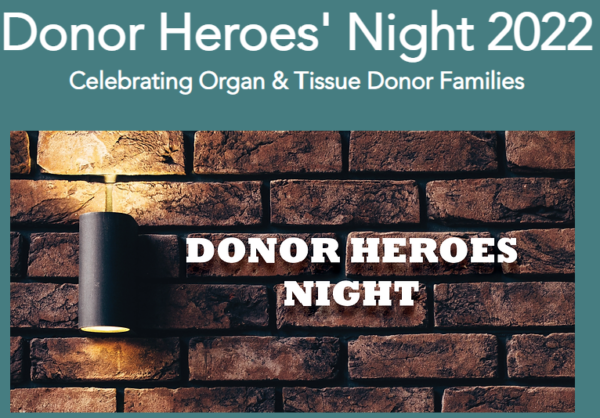 Australian households are being asked to 'leave a light on' in support of organ and tissue donation at 6pm on the evening of May 18, 2021. Known as Donor Heroes Night, the event is designed to commemorate and celebrate the lives of the 10,000 of Australian organ and tissue donors who have given the ultimate gift so that others may live and or have their life improved.
What is Donor Heroes Night about and its History?
Donor Heroes Night is a dedicated event which celebrates, honours and commemorates the men, women and children of Australia who have given the gift of life through organ and tissue donation.
​On May 2020, the inaugural Donor Heroes Night was undertaken.  The event was inspired by thousands of Aussies commemorating ANZAC day when they came out of their homes in the early morning to remember our ANZAC Heroes, light a candle or played the last post in their memory.   So why couldn't the same be done to acknowledge and celebrate the 25,000 plus Donor Heroes who have given themselves to save or benefit others.   This includes organ and tissue donors as well as living donors (kidney & liver).
​2020 resulted in 50,000 Australians through the various social media platforms being involved.
​2021 saw this number rise to 125,000 that were involved in the weeks leading up to and including the night of the 18th May. 
 250,000 is the goal for 2022 and on the night of 18th May 30,000 are anticipated to be involved posting photos of their light/candle and Donor Hero loved one accompanied by comments supported by family, friends, and the community at large.
Who and How can I take part in Donor Heroes Night?
Turn on a (porch) Light or equivalent for all donor heroes;
if you are a donor family,

if your mate was a donor hero,

if you know of a donor hero,

if you are a recipient,

if you are a recipient family,

if you are in need of a transplant,

if you have signed the National Organ/Tissue Donor Register,

if you support Organ/Tissue Donation.
Take a photo of your light, and upload it onto your Facebook, Instagram or Twitter page and as well as posting onto  DFA's Facebook Page at https://www.facebook.com/DonorFamiliesAustralia together with your comment.   Donor Families are also encouraged to also post a photo of your Donor Hero if you wish.
For more information head to Donor Families Australia