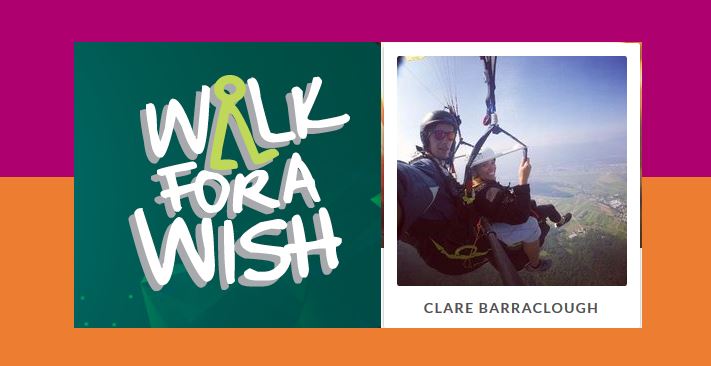 Clare Barraclough will celebrate and honour a hero of hers; her friend Gav, who saved several lives last year when he became an organ donor.
Clare is generously fundraising for Transplant Australia through her CBRE 'Walk for a Wish', and will walk 10km from Martin Place to North Bondi RSL, Friday, 27th October.
Clare is celebrating the life and memory of her close friend Gav. She shares her beautiful story with us, below:
My motivation for raising awareness/money for Transplant Australia is because of my experiences last year.
Mid 2016 I met a guy who quickly became a very big part of my life. He was full of life and really took advantage of everything life had to offer. Gavin, moved to Swindon, UK in January 2016 and we spoke every single day. I had planned to meet him for a week in the UK before my best friend and I continued our 3 month travel plans around Europe. However 2 days before we left Gavin was in a car accident. He had been involved in a head on collision, with the other driver being distracted by his mobile phone, on his way to work and was rushed to hospital. When we arrived in London we spent the first two days in hospital, until sadly Gavin passed away.
When people pass, it always seems difficult to grasp onto something to get you through the grief, however as horrendous and life changing this event was, it thankfully also had a beautiful silver lining. Gavin was an organ donor and ended up saving 7 lives across England. I am very fortunate to have built a friendship with his mother and she has kept me up to date with the special messages Gavin's family have received from some of the organ recipients from the other side of the world.
To be completely honest I always admired this organisation but you don't truly appreciate it until you experience it first-hand.  
I know what joy it has bought to Gavin's family receiving letters from strangers (now friends) that Gav saved the life of. Gav was one of those guys that would do anything for his family and mates, so this with no doubt in my mind is a true blessing and a strong testimony to the life that Gavin lived.
Gav will forever remain a hero in mine and the eyes of many others.
So far, Clare has raised an incredible $1359 and has a new goal of reaching $1500. With supporters like Clare we are able to continue raising the awareness of organ donation and supporting recipients post-transplant, through the Transplant Games, the Mark Cocks Research Scholarship, and other initiatives like our 'Living with a Transplant' program.
The CBRE Walk For A Wish has been going since 2010, and has raised over $1.4 million for various charities.
If you would like to support Clare's Walk For A Wish, click here.