It is through tragic circumstances that we welcome a new donor family member into the Transplant Australia community, Jane Richardson. Many of you were deeply saddened learning of the death of Jane's daughter, Milly Soderstrom, 8, who drowned in the bath tub while at home with her family in Maitland, NSW in September this year.
Today, Jane has written an intimate account of what happened that day and tells how organ donation helped her to cope with immense loss. These are her words.
By Jane Richardson
One afternoon, late 2015 and my 2 youngest daughters Ivy 10 and Milly 8, were home from school. The doctor had been the night before and diagnosed them with the flu- "Stock up on kids Panadol, Nurofen and get something for their throats, it may help with their coughing as well," he advised. Which is what I did that morning.
Milly came with me to the shops, she was in her PJ's so she stayed in the car which was parked just outside the door while I dashed into the chemist.
Driving home Milly put her window down and said "It's a nice sunny day, Clare would like this day, don't you think Mum?" She was referring to my late sister.
I smiled and replied, "Yes she would baby girl."
Once at home, Milly did some colouring in and then dozed off to sleep on the lounge.
She woke up a couple of hours later and asked for some toast. "Just give me the knife Mum- that's the dangerous part – I can do the rest myself." I laughed at her independence and handed her a bread and butter knife.
Meanwhile, Ivy went to have a bath. The warm water helped to soothe her aches and pains so I was happy to let her soak in the tub. Ivy came out after about 15 minutes and Milly said, "Hey Ivy, is the water still in there? I'll have a bath too. Mummy, can I?"
"Sure can, it will make you feel better" I said and patted her on the arm as she ran past into the bathroom.
I could hear her coughing and chatting in the bath, and she kept turning the tap on and off. I went in and said, "Hey missy, stop using the water, other people need to shower tonight".
She wriggled down and turned off the taps, and went back to her spot at the end of the bath.
"Is Terry coming over tonight?" she asked.
"Yes, he'll be here any minute!" I said as I walked out of the bathroom.
It was the last conversation I would have with my beautiful 8year-old daughter Milly Hope.
Terry, my long term boyfriend turned up minutes later as predicted. Ivy was lying on the lounge watching television and I was reading a book. Terry was on his phone and mouthed the words "5 minutes". I gave him the thumbs up and went back to my reading.
After a few minutes I noticed that Milly was no longer chatting out loud so I asked Ivy to go and check on her sister. Ivy jumped up and ran into the bathroom, I followed not expecting anything to be wrong.
"Mum! I think Milly has had a seizure," Ivy yelled. (Milly had suffered febrile convulsions, when she was a toddler but hadn't had one for more than five years).
I entered the bathroom to see my baby girl lying on her side under the water. I dragged her out of the bath while yelling at Terry. He ran in immediately saw she Milly wasn't breathing and started CPR.
I grabbed my phone and dialed 000 telling Ivy to run across the road and get help from a neighbour.
Within minutes my world changed. As Terry and my neighbour Phoebe performed CPR I relayed information to them from the Triple 0 operator.
Ivy called out, "I can hear the ambulance Mum". And was jumping up and down and waving her arms in the front yard. Seconds later the paramedics were in the bathroom and took over the CPR bringing her out to the lounge room and drying her off before using a defibrillator which restarted her heart almost immediately.
But Milly was not breathing. She was being stabilized on a resuscitator.
Other neighbours had arrived by this time and were holding me back as I screamed, yelling out "Oh my God, Oh my God" over and over and over. Disbelief and grief washing over me in waves, a moment I will never forget.
Terry and Phoebe were standing there with blood on their faces saying "Jane, Jane, Jane". Sadness etched within every word. In no time at all we were in the Intensive Care Unit, my daughter Milly facing the fight of her life.
Within hours we were told her brain had died. She would never wake up – she was clinically dead.
"It appears Milly has had a febrile convulsion caused by a high temperature and as a result she has drowned. She is dead"
 That is exactly what the doctor said. "Now, you need to decide what to do. She will not wake up ever. I'm sorry." He meant to ask, when would you like us to turn off the machines? When will you sit by her side and watch her heart take its last beat?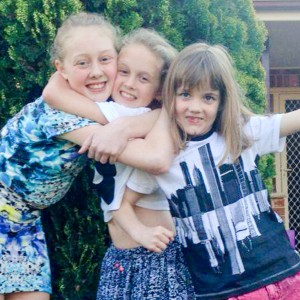 Never. I decided. Not when she is so healthy, not my Milly who can potentially help other children. I was defiant, I would not let other parents go through this pain if I can help them.
Organ donation was the answer to my grief, the only hope in a hopeless situation, the only thing which would bring me any kind of relief to the pain which had consumed my world.
I wanted her to live on in others.
So began 24 hours of sheer torture as doctors worked to keep Milly stable. Her dad, our family, our closest friends and I all sat by her side holding her hands, talking to her, stroking her hair and playing her music. She looked so peaceful and beautiful.
During that 24 hours they worked to find suitable recipients for Milly's organs and tissues. Samples were dispatched with speed and urgency as phone calls and information was shared.
Then it was time to say goodbye.
A minister came in and gave Milly her last rights and a lovely man played his guitar for her. It was quite possibly the saddest moment of my life. "Look after my baby," I said to the surgeons as they wheeled her away. They nodded their heads with respect.
I would never see her again. Milly has since saved 4 lives.