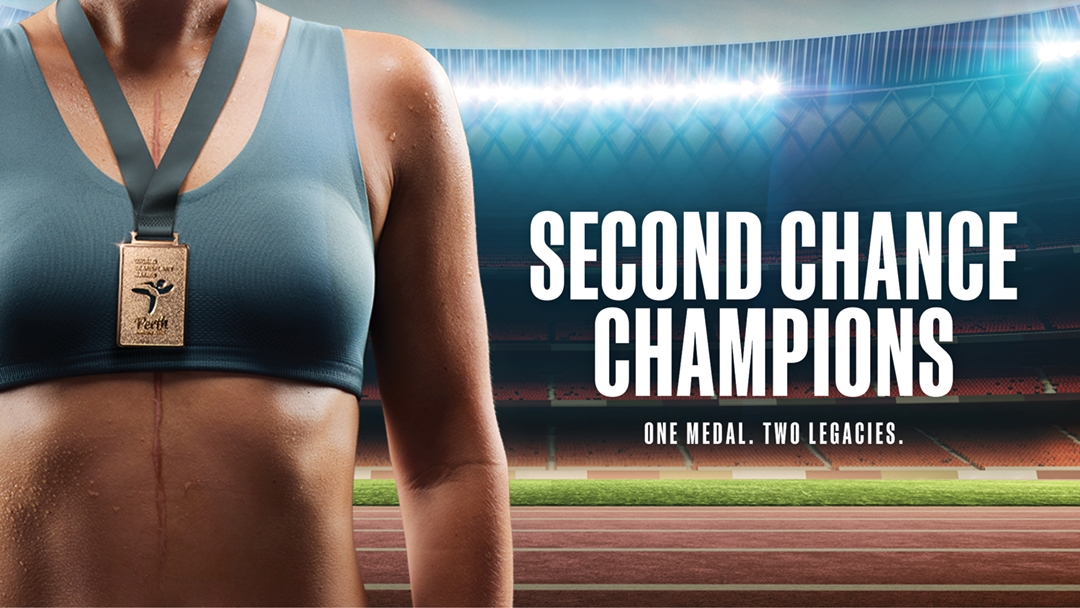 The legacy of the World Transplant Games held in Perth earlier this year continues with this week's premiere of 'Second Chance Champions' – a television documentary which follows a group of organ transplant recipients participating in the Games.
The documentary airs nationally on free-to-air television, on 10 and 10 play, this Friday (November 17) at 1.00pm and again on Sunday (November 19) at 9am as part of the celebration of Thank You Day, Australia's day of showing gratitude to donors and their families.
Transplant Australia opened the doors of the Games to Dentsu Creative and Creative Director of Entertainment, Liam Bagnall, to produce perhaps one of the most important documentaries ever made about the World Transplant Games.
Transplant Australia CEO, Chris Thomas, said that even though organ transplantation is now well established with thousands of successful transplants over the past 60 years, the powerful and personal stories of recipients still resonate deeply with audiences.
"Transplant Australia is proud to see the airing of this documentary in the lead up to Thank You Day. The triumph of these recipients over adversity is another important reminder of the power of organ and tissue donation," Mr Thomas said.
"We hope it will inspire Australians to register as organ and tissue donors and inform their families of their decision."
Second Chance Champions also features inspirational messages from Rowena Alexander, a mother from Kununurra in Western Australia, who made the decision to donate the organs of her daughter, Macaiah in 2018. Mr Thomas said the importance of a proud Indigenous mother sharing her story publicly could not be underestimated.
"Our goal is for all Australians to have equal access to transplantation. For that to be achieved we need all Australians to embrace donation as the most important legacy we can leave behind. We are so proud Rowena has told her family story in this documentary in the lead up to Thank You Day," Mr Thomas said.
World Transplant Games Federation President, Liz Schick, said there is no better way to encourage people to make their decision concerning organ donation than to tell these stories. Organ donation concerns us all.
"As a transplant recipient myself and competing in the World Transplant Games since 2001, I have met so many incredible people and heard so many stories. These stories cannot leave one indifferent. Our games are a celebration of life and show that what we once thought was impossible can be possible, thanks to the gift of life."
The documentary also features:
Rezwan Mohammed, a kidney recipient from Queensland who is vying for gold in Badminton at the Games
Laurie Hindom and his wife and kidney donor, Linda, as they both compete at the games in the transplant recipient and donor competitions.
Erika Kaiser, from Mexico, who provides a powerful message of the importance of organ donation around the world.
Transplant Australia is pleased the documentary is being released as part of Thank You Day as it allows transplant recipients to thank and show gratitude to donors and their families.
Thank You Day is conducted by the Organ & Tissue Authority and is now in its eighth year. It is an opportunity to pause, remember and thank those Australians who have given the ultimate gift through organ and tissue donation. It also acts as a reminder for Australians to register as donors and talk to their family about donation. You can register today at www.donatelife.gov.au.
Second Chance Champions is now streaming on 10 Play, https://10play.com.au/second-chance-champions
Second Chance Champions will be released internationally in early 2024.
The 24th World Transplant Games were held in Perth in April 15 – 21 2023 and featured 1,500 participants in a week of celebration and 17 sports.
The Games were hosted by Transplant Australia and sanctioned by the World Transplant Games Federation. The Australian Government through the Commonwealth Department of Health and the Organ & Tissue Authority and the Western Australian Government were Major Partners of the Games. The Games were also supported by the City of Perth, Astrazeneca, Coogee Chemicals, the McCusker Charitable Foundation and the Town of Cambridge.