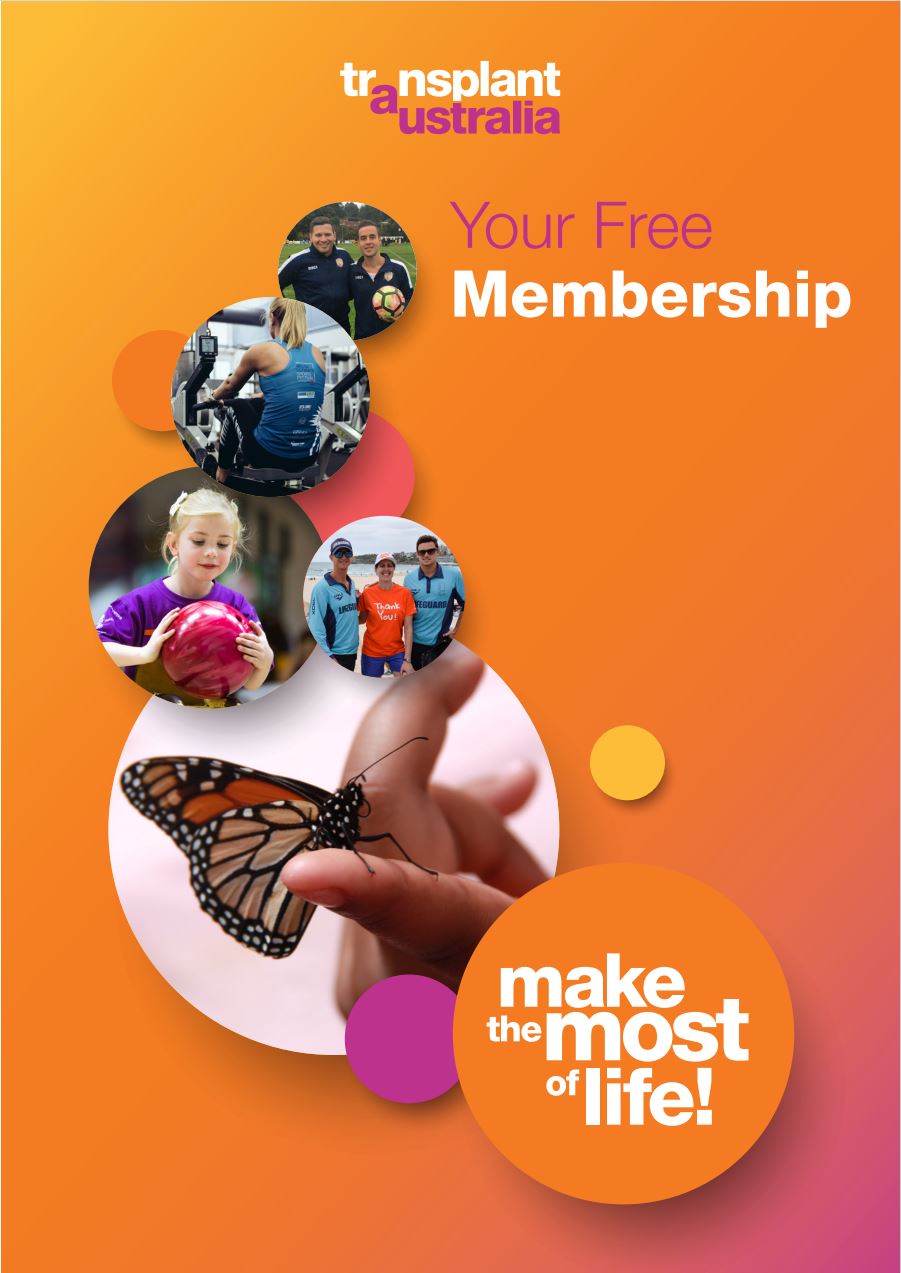 The road to recovery following life-saving organ transplantation can be long and complex. Transplant Australia, as the national charity for organ donation and transplantation, is dedicated to helping recipients along that journey.
In our mission to help more recipients, the Board of Transplant Australia is introducing free national membership to ensure all transplant recipients have access to our education, support and information.
Transplant Australia Medical Director, Professor Richard Allen, said free membership will ensure there were no barriers to recipients accessing our 'Living with a Transplant' education program.
"We are very proud of these resources that we designed for the recipients – everything from going home and the first few days through to education on diet, medications, physical activity and mental wellbeing," Professor Allen said. They will complement the ongoing medical care provided by their transplant clinicians and nurses.
"We are also working with the transplant professionals at Westmead Hospital to convert this education into easily digestible videos. There are more than 1,700 people receiving a transplant in Australia every year and this is a much-needed resource."
The series of videos are being produced by Digital Story Tellers with the support of Astellas, Australia.
Previously Transplant Australia offered free membership only to organ donor families, living donors and health care professionals. This is now extended to anyone wanting to join Transplant Australia and become part of a growing charity promoting donation and supporting recipients. It will be particularly attractive for those recipients living in rural and regional areas where access to our State committee programs is limited.
Transplant Australia CEO, Chris Thomas, said Transplant Australia also encouraged members to sign up to their relevant state committee to receive local newsletters, event invitations and to represent their team at the Australian Transplant Games or World Transplant Games.
"The State Committees are run by volunteers so there is the option of adding a State contribution fee of $60 for two years that will help the states and their volunteer programs. That fee allows members to be eligible to represent their state or Australia in transplant games and to opt-in to attend state activities or events," Mr Thomas said.
The free membership is available for new and existing members although Transplant Australia believes existing members will want to continue to be part of their state committee.
Importantly, membership helps Transplant Australia:
Promote organ and tissue donation to the Australian public
Strengthen its voice to governments at both state and federal levels where we need to ensure that transplantation remains a high priority for our health care systems
Celebrate the 'gift of life' through programs such as the Australian Transplant Games, DonateLife Week and other activities at both national and local levels
Thank donors, both living and deceased, and their families for the ultimate gift
But most importantly it gives recipients access to a wide support network of people who have gone through similar experiences. Transplant Australia is only just a phone call away on 1800 827-757.
Mr Thomas said Transplant Australia's mission was to ensure organ donation was accepted by all Australians and that all transplant recipients receive help and guidance on their transplant journey.
More information about Transplant Australia is available at www.transplant.org.au