Transplant Australia is sad to announce the passing of Audrey Wood, a long time member of Transplant Australia in both Western Australia and in New South Wales.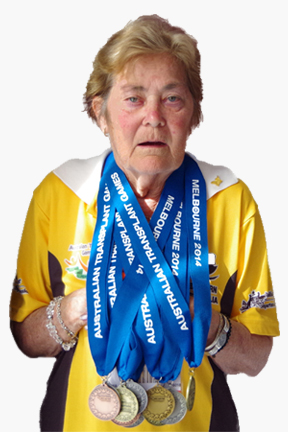 Audrey was a skilled sportswoman. She competed in many National and World Transplant Games and could throw or bowl a ball with great accuracy whether it was in ten pin bowling, lawn bowling, shot put or the ball throw competition. Yet her ball throwing was not her only prowess. Audrey could hurtle that small body of hers quite a distance in the long jump, a sport she was so determined to compete in that she would detach herself momentarily from her oxygen cylinder in order to jump.
Once before we waved her off on the train from Western Australia as she returned to Newcastle to live. Her train trip back to New South Wales was a journey to remember. Audrey was on oxygen and was required to take her oxygen cylinder with her everywhere but its size restricted her from sitting in the normal passenger carriage and forced her to sleep in the lounge area where there was more room. Sadly, she was so ill that we didn't expect that we would ever see her again.
To our great surprise, Audrey turned up in WA a year later looking healthy and crazily enjoying the thrills of ball room dancing. It's hard to tie a good athlete down. We will miss your spirit Audrey.