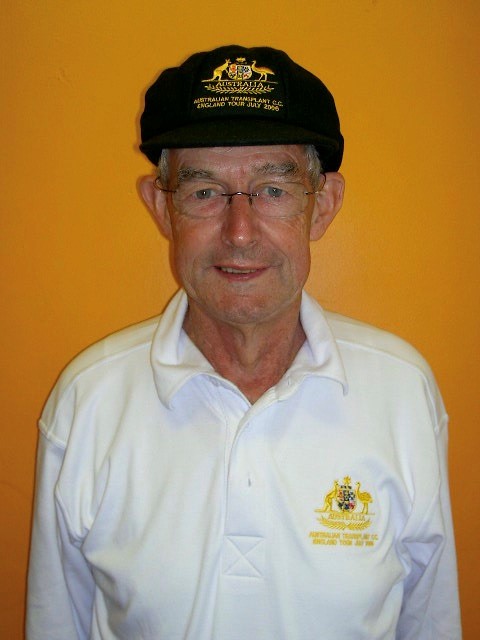 It is with much sadness that I inform you of the death of (Dr) Howard Watts.
Many of you knew Howard as a member of the Australian Transplant Cricket Club ("ATCC"). Howard was a member of the inaugural ATCC squad that toured England during 2006. Not only was Howard passionate about cricket but he also was a tremendous ambassador for transplant awareness.
Howard made his 'debut' for Australia at Jesmond Cricket Ground on 12th July 2006, taking a wicket and scoring with the bat. Most importantly, he donned his Baggy Green cap with pride.
On that Tour, Howard was not only an integral member of the squad, but he also was team doctor, chief scorer and everyone's confidant. As the late Graham Marsh would have said, Howard was "a good egg".
Always reserved, but possessing a dry sense of humour and great wit, it was always a pleasure to be in the company of Howard. Nothing was ever a burden for him; always willing to assist and whole-heartedly support his fellow team-mates.
In 2008, Howard arranged for the ATCC team to be guests of the "old" WACA and have a pre-David Hookes Tribute Series Dinner in its Members Pavilion. The enjoyment of that evening will last long in the memory of all who attended and it was all solely due to Howard. In addition, Howard organised the venues, officials and opposing teams for the matches that were played in Perth during that Series.
In 2011, Howard and his wife, Judy, joined the ATCC's second tour of England. Their support and friendship were both appreciated and enjoyed by all who were on that Tour.
Of course, Howard's prowess extended far beyond the cricket field, score sheets and pavilions. In June 2003, Howard was awarded the Medal of the Order of Australia for his service to medicine and to professional development through the Royal Australian College of General Practitioners. A very much deserved recognition of Howard's contribution and care to others.
Over the past few years, Howard's health significantly deteriorated. He had difficulty hearing and that was extremely frustrating for him. Nevertheless, he rarely complained. Instead he would apologise for being a burden. He also would be genuinely interested in the health of others, rather than to lament his own ill health. Such was the nature of this exceptional man.
When I received the sad news of Howard's passing from Judy, she so aptly stated of Howard:
"Always gentle, loving and kind, we as a family have been greatly blessed having him in our lives as we did."
Indeed, such sentiments apply to each of us who knew Howard. I count myself very lucky to have met such a man as Howard. I have greatly valued the friendship that we had over the past 15 years.
To Judy and her family, I extend my deepest sympathy. May you find solace at this time in remembering the many wonderful times that you had with Howard.
And to Howard, I say that: "I will always remain in awe of your humility and kindness, my dear friend. I treasured our friendship and enjoyed every minute in your company. Congratulations on a life well lived and thank you for adding so much to the lives of all who knew you."
Howard was a true gentle man. Vale a truly exceptional man.
In deepest sympathy,
Jeffery Sewell