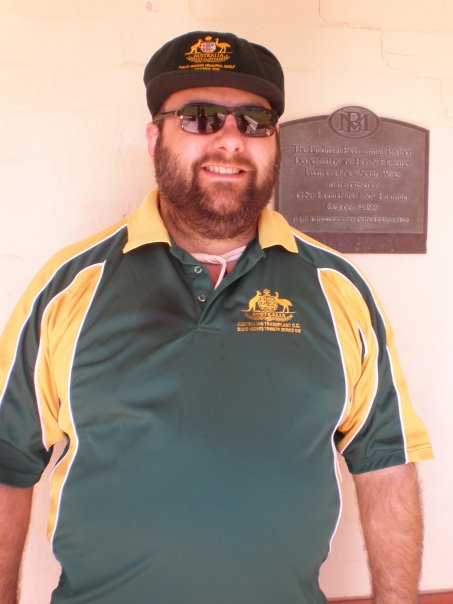 John Wulff was a wonderful man. A humble, honest and wonderful man.
It was always a pleasure to be with John. He was amongst the most even tempered, cool headed and warm-hearted men that I have ever known.
Even when he was justifiably upset or riled, I don't recall an entire minute passing before the smile would return to John's face.  John also was tremendously supportive and kind to those around him. He was a true "gentle man".
John was one of the original 11 Australian transplant cricketers who played the Great Britain Transplant Cricket Club ("GBTCC") at Adelaide in September 2004 in the first ever Transplant Test. He set records back then and continued to excel representing the Australian Transplant CC in tours of England in 2006 and 2011. He was an integral member of the team that reclaimed the David Hookes Memorial Shield during that latter Tour.
In between, he played in annual home Series against able-bodied teams and made friends wherever he played. John continued with his support of transplant cricket with the 'Transplant Cricket Lucky Stars'.  Just as he had with the ATCC, John continued to spread transplant awareness by participating in the Lucky Stars' numerous matches and activities. And of course there also was his long-standing association and success with the Kissing Point Cricket Club.
I have been inundated with messages from near and abroad; all of which express great remorse at John's passing but also a gratitude for having been so fortunate to have met such a fine person.  The following words were widely expressed "friendly", "great sense of humour", "lovely man", "a smile that would light up a room" and so on.
Colin Mitchell, who represented the GBTCC in both 2004 and 2006 and who also was their Chairman in 2006, wrote:
"John was one of those guys you just do not forget. A lovely, friendly, open man with a great sense of humour. He did a great deal to bring the Australian and British teams together and was highly regarded by our players as a man and a cricketer.
"The photograph of John stretched out like a bathing beauty across the laps of the GBTCC XI in our team photo is one of my favourites and I shall revisit it this morning.
"Please pass our condolences to his family."
Of course, John's love of cricket was not confined to the playing fields of transplant cricket, nor was his passion for sport confined to the great game of cricket.
I also had the great pleasure of competing with and against John at a number of Australian Transplant Games.  Not surprisingly, John's forte in athletics was in the power events and he was regularly on the podium receiving a medal in such events during the Games.  However, I also do recall that in at least one National Games, John medalled in the 5km walk.
In addition to the competition, which was always keen, there was the camaraderie that John conveyed to his fellow competitors.  It was just such good fun just to be out there competing with him.
John's love of life was infectious. He always was warm in giving praise, even on occasions when it may not necessarily have been due.  But that was the make of the man; a compassionate man who cared about those around him.
Quite appropriately, transplant cricketers are often heard saying that they celebrate a "second innings" in life. What we don't say enough is that the second innings is enriched by experiencing it with people such as John.
It is with great sadness that I write this tribute to John.  My words cannot do him the justice that he deserves.  His passing is too soon. Yet, what a life he has led.  He and his beloved Vicki have travelled the world and experienced so much.
John has passed way too young.  But in terms of accomplishments, places seen and people whose hearts have been touched by John, he has achieved more than most men ever do.
Having been given the gift of knowing John was a privilege for which I will always be grateful.  His generosity and love of life were inspirational.
Yes, we will deeply mourn his passing, but our memories of John will be treasured and will continue to comfort and inspire us.  I will never forget his friendship.
As I once heard said "It is not what we have in our life, but who we have in our life."
To Vikki and each member of John's extended family and friends, I convey to you my deepest condolences.  To John, I say "thank you, dear friend for just being you. And thank you for such great times.  It was a blast!"
We have been enriched by John's humour & grace.  Our lives are so much the better for having known John.  He will never be forgotten.
In sympathy,
Jeffery Sewell