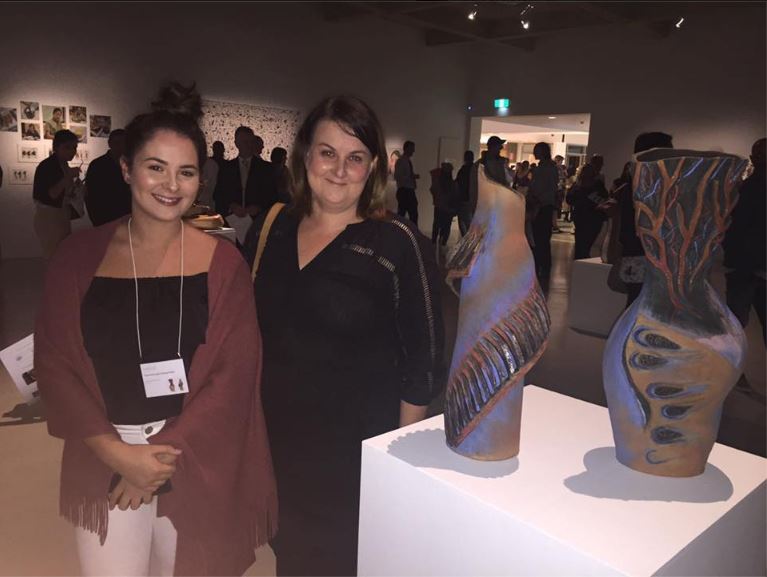 Year 12 student Tara Dangerfield has had her stunning HSC Major Work selected to be part of Art Gallery of NSW's 2017  ArtExpress, the annual series of exhibitions of exemplary artworks created by New South Wales visual arts students for the Higher School Certificate.
Inspired by her family, Tara wrote: "My Uncle was born with severe health issues surrounding his kidney, reflux nephropathy and nephritis leading to my Mother donating one of her functioning Kidneys ultimately saving his life."
Tara's mum Alison became a living donor in 2003, when she selflessly and bravely gave one of her kidneys to her brother. Her generous act gave him the opportunity to live his life to the fullest with his career, sport, his son and his fiancé.
Tara's uncle and kidney recipient Paul Hudson in turn has given back to the transplantation community by volunteering his time to encourage others to join the Australian Organ Donor Register. In 2016 he was part of Transplant Australia's Gifted campaign, which promoted organ donation to Australia's multicultural communities.
Paul said, "Feeling very proud of my niece Tara Dangerfield who had her year 12 Major Artwork displayed at ArtExpress representing Caroline Chisholm Catholic College. She made two ceramic vases which represented organ donation."
Tara explains, "I wanted my work to address the fragility of the human spirit in the midst of illness in relation to my family's history of health issues."
The importance of projects like this in the community, and sharing personal experiences of organ and tissue donation with others, cannot be overstated. Thanks to families and people like Tara, Alison and Paul demonstrating the benefits of transplantation and inspiring Aussies to join the Register, more lives are being saved than ever before.
According to the federal government, figures showed a best-ever 1,448 Aussies were given a second chance at life in 2016 due to the generosity of 503 deceased organ donors. This is 16 per cent better than the previous year, and resulted in a 17 per cent lift in the number of lives saved.
Still, there are over 1400 Aussies who need a life-saving transplant today. Please join the Australian Organ Donor Register online at donatelife.gov.au to register your decision to help others, and leave a legacy of life behind you.