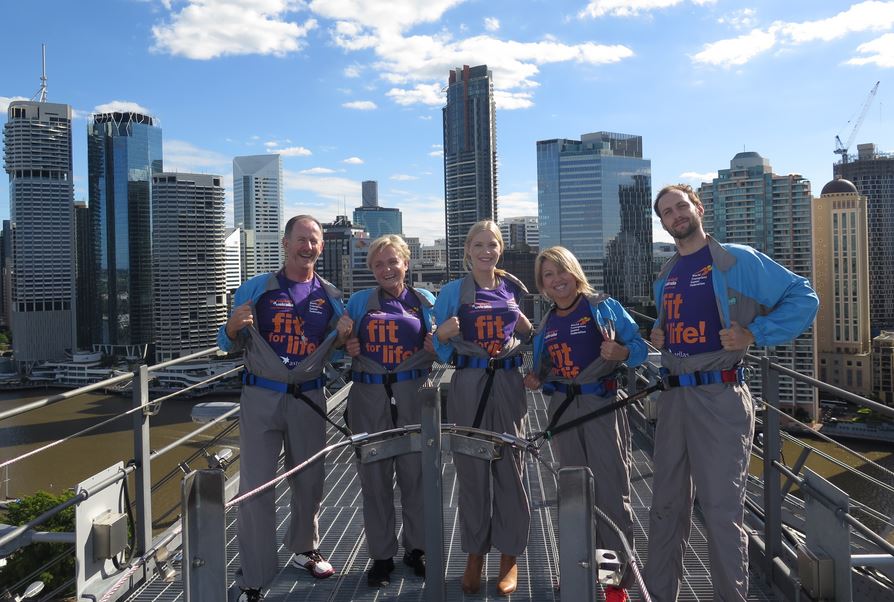 The record-breaking Fit for Life! Initiative has launched today in Australia, to coincide with the annual TSANZ Conference in Brisbane, in a push to save more lives.
5 inspiring transplant recipients – heart/lung recipient Kate Phillips, bone marrow recipient Monty Summers, kidney recipient Linda Petrovski, and two liver recipients –  Jennifer Dicker and Peter Champion – have climbed the Story Bridge to celebrate their return to health, give back to the organ donation community, and launch Fit for Life in Australia.
Fit for Life is a global initiative of the World Transplant Games Federation, proudly supported by Astellas, designed to get more transplant recipients more active more often.
Developed because research shows that physical activity decreases the risk of organ rejection, Fit for Life will improve physical, mental and emotional health outcomes for transplant recipients across the globe.
Appointed Fit for Life Ambassadors for their leadership skills and inspirational spirits, the group of 5 on the Story Bridge have flown in from all over Australia, uniting in Brisbane to kick off the life-saving initiative.
All have overcome acute illness, and are now living life to the fullest.
The Story Bridge has been chosen to symbolise the transplant recipients 'climb to the top'. The Ambassadors climbed 22 flights (1,138 stairs) to reach the top of Brisbane's iconic bridge, bringing them 80 metres above sea level where they took in the stunning views of the Queensland capital.
Jennifer, 49, from Frankston, Victoria, said, "We're all here (on top of the bridge) thanks to the gift of organ donation."
Sydneysider Peter Champion, 57, agreed. "It's a great time to reflect on our donors."
The Story Bridge was chosen to officially launch Fit for Life in Australia because it is a great way for recipients to ease their way back into physical activity.
A statement from the Story Bridge says: "You don't need a particularly high level of fitness to do the climb. At the end of the 2-hour journey, you'll probably be surprised by how well you did and feel a strong sense of satisfaction."
This is exactly what Fit for Life is trying to convey – recipients don't need a high level of fitness to begin. Every day post-transplant, they will feel stronger than the one before.
With one step at a time, they will be Fit for Life.
The global launch of Fit for Life in Chicago last year broke the Guinness World Record for most online organ donor registrations in an 8-hour period. The result was announced to 63,000 people in a packed Soldier Field during halftime of the historic Ireland vs All Blacks rugby match.