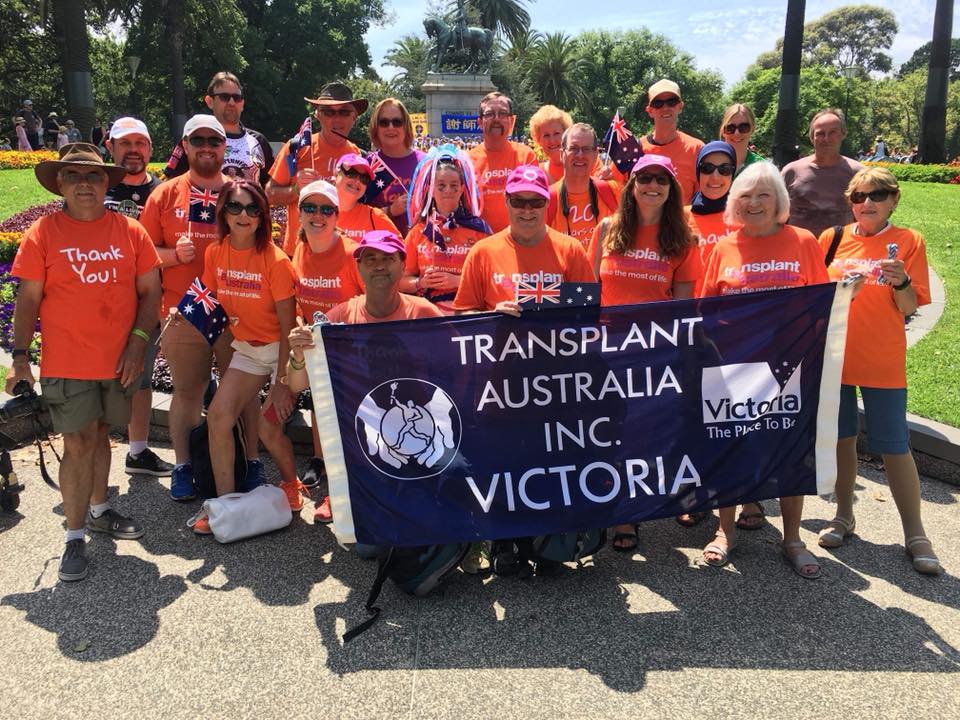 Nothing is more Aussie than helping a mate, and that's what a group of inspiring Victorians did on Australia Day.
Led by kidney recipient Brooke Huuskes, Chair of the Transplant Australia Victorian Committee, 25 people whose lives have been saved by organ and tissue donation marched in the Victorian Australian Day Parade to promote the call to action: Australia, we need more people to join the Australian Organ Donor Register at donatelife.com.au.
Brooke's fellow marchers included heart, kidney, lung, liver and cornea recipients. They've stared death in the face, and come out the other side thanks to the generosity of organ donors, and their families. Now, they want to say 'thank you' by paying it forward. Living donors and donor families also walked with Transplant Australia.
In eye-catching orange shirts, they definitely stood out at the 2018 Australia Day Parade.
"This is the 5th year we've participated in the Australia Day Parade and we always get a large turnout of members that are proud to march for organ donation and Transplant Australia at the Australia Day Parade," says Brooke, whose father donated a kidney to her in 2010. "It's great to see so many people out in the crowd, cheering us on. We all marched to spread awareness to others in the community."
The group is driven to help other Australians the same way they have been helped. Organ donation has meant that Brooke has been able to complete her PhD in kidney regeneration; travel the world, represent Australia at the World Transplant Games (the equivalent of the Olympics for transplant recipients), fall in love; basically, to live an incredibly active and fulfilling life.
The 33-year-old from Glen Iris wants to make sure that other Australians who need a transplant are given that chance.
"The more Aussies who add their name to the Australian Organ Donor Register, the more lives will be saved. It's free to join the register, and takes less than two minutes. All you need is your Medicare number and a few other details, and you're done!"
At any one time, there are 1400 Aussies on the waiting list, their lives on hold or in danger, a transplant their only hope.
Many more Australians are at risk of one day finding themselves on the waiting list due to organ failure. According to statistics from the Victorian Government, in 2014 there were close to 23,000 Australians who were receiving dialysis treatment or living with a kidney transplant to treat kidney failure.
Brooke is optimistic that the Australia Day March is the perfect place to celebrate helping a mate through organ and tissue donation.
"That is the message we will be promoting this Australia Day. If we can inspire people to join the register, we know we will have made a difference."
Transplant Australia CEO, Chris Thomas, says, "We are very proud of the members of the Transplant Australia Victorian Committee for taking part in this march, demonstrating living proof that transplantation saves lives.
"Transplantation allows recipients a quality of life they might not have experienced for years. They can start a family, get back into the workforce – all because of the generosity of someone else," Mr Thomas said.
The message to all Australians is to register as an organ and tissue donor.
"For every Australian willing to one day save lives, joining the register is the clearest message a person can give their family that, in the event of their death, they have made a decision to leave a legacy of donation to save the lives of other Australians," Mr Thomas said.
Join the Australian Organ Donor Register online by visiting donatelife.gov.au
Transplant Australia congratulates Alan Dean Chrystie, Terry Holyoak, Martina Mc Ardle, Ken Pedlow, Anna Modlin, Frankie Simovic, Kylie Ann Chappell, Darren Hennessey, Nigel Goldsworthy, Robyn and Mark Dinnar, Roxanne Kavanagh, Dave Howard and the others who marched on Australia Day.