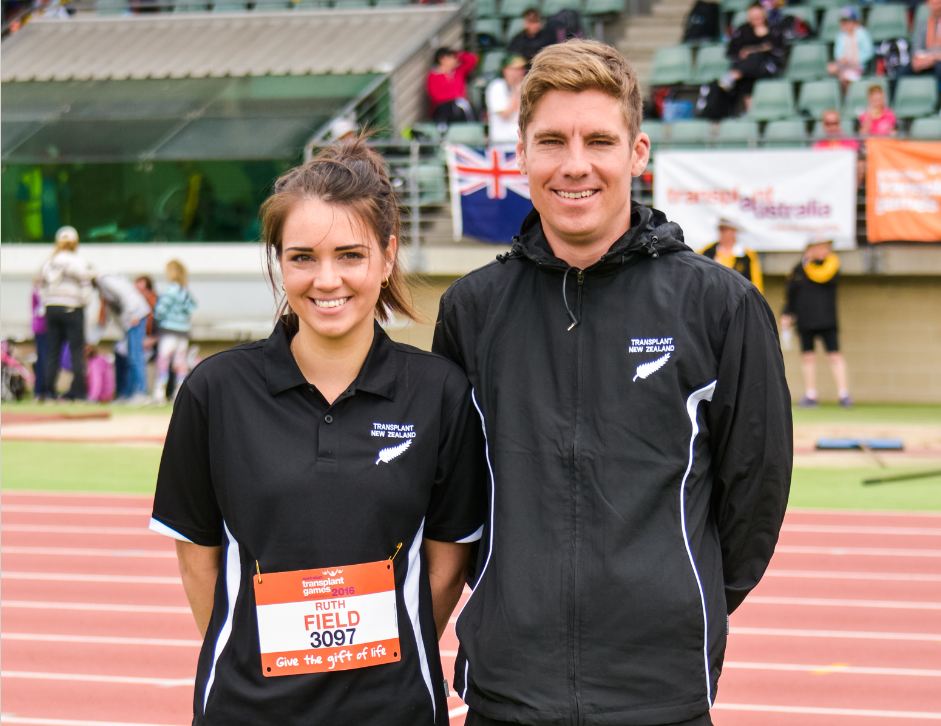 Transplant Australia is getting behind DonateLife Thank You Day, which is Sunday the 19th November.
To celebrate Thank You Day, we have published this piece by Ruth Field, a living donor who donated a kidney to her brother, Matt. Thanks to Ruth's gift, Matt has represented New Zealand on the world stage in Chicago as a Fit For Life! Ambassador.
Ruth's reflection delves in to the experience of the Australian Transplant Games. Transplant Australia would like to thank her for providing this beautifully written article.
There was a lot of competitiveness at the Australian Transplant Games, spurred by the sort of good-natured rivalry that occurs between states, between Aussies and Kiwis, between siblings. I told my brother I'd win more medals than him – this, of course, did not happen – but I did get to see him swing a tennis racket, run a fast-paced 5km road race without stopping, and throw himself over the finish line in the 100m sprint. These were all things that seemed impossible just three years ago, before he received one of my kidneys.
Competitive probably isn't something we usually associate with transplant recipients. My time in Australia quashed that assumption pretty quickly – not only were the transplant athletes competitive, but in many cases they exceeded the abilities of those of us without transplants! To be speaking to someone about illness, infection, unpleasant medications, endless tests, endless waiting, invasive surgeries, slow recoveries… and then to see that person throw themselves wholeheartedly into sport was eye-opening, eye-watering, and inspiring.
It wasn't all about the sports, though, and it wasn't all about the transplant recipients. Living donors and donor families were honoured and thanked in many ways – during the Opening Ceremony, at the Thank You Parade, at the Donor Lunch, through the special pink and green shirts we were given. I wore my green "Living Donor – Living Gifts of Life" shirt with such pride. Hopefully, when the general public saw that shirt, the gift that I didn't think twice about giving was giving people a reason to think twice. After all, one of the main points of the games was to promote organ donation and to encourage people to sign up to the Organ Donor Registry.
One of the ways organ donation was especially promoted was through the public Thank You Parade in Martin Place. During this procession I kept an eye on all the orange shirts around me. I saw "7 years and counting," and smiled. A second later, someone wearing "15 years and counting," passed by, and I thought about what a long time that was. Then I saw "22 years and counting." And, incredibly, through the throng of orange and purple, I glimpsed "41 years and counting". I can only hope that my gift will last my brother that long. The games gave him the opportunity to meet many recipients who were more than happy to give him advice on how to look after his new kidney. And the friendships forged will no doubt help combat the feeling of aloneness that can surely sometimes occur as a transplant recipient.
Transplant recipients are welcoming. They are humble and resilient. They are inspiring and driven. They are grateful. I know, like every transplant recipient I saw at the games, my brother is making the most of every extra year he has; he is making the most of life.
The next Australian Transplant Games take place on the Gold Coast in 2018.