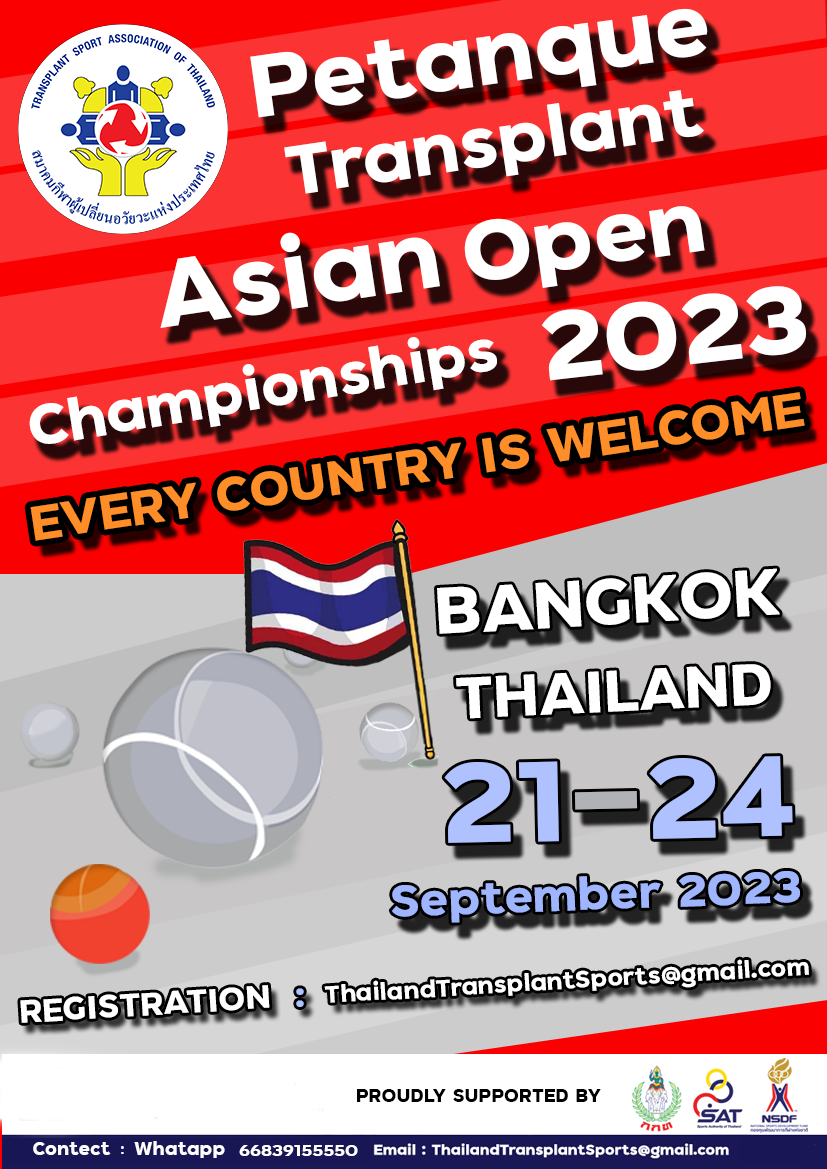 You're invited to the Pétanque Transplant Asian Open Champions!
The Transplant Sport Association of Thailand is proud to be hosting the 2023 Pétanque Transplant Asian Open in Bangkok, Thailand, from September 21st to 24th. The event is open to participants of all skill levels from around the world.
Following the excitement of the World Transplant Games, it can be difficult to maintain momentum. This event is an incredible opportunity to once again test your skills on the world stage and keep you motivated on your training journey. Don't miss out on the chance to reunite with the global transplant community and visit the beautiful city of Bangkok.
Please find event details below. 
Registration open 4 July 2023 – 10 September 2023.
Venue: 246 Soi Ramkhamhaeng 9, Phlabphla, Wang Thonglang, Bangkok 10310, Thailand
https://goo.gl/maps/at5JuAF8FsEPzTVw6
No medical form required
Competition Format
Round robin competition with time limit of 45 – 60 minutes, following Pétanque F.I.P.J.P rules and regulations.
Singles: male and female
18 – 29
30 – 39
40 – 49
50 – 59
60+
Doubles/Pairs: male and female
Team: 3 athletes, able to mixed both Male and Female
(limit 4 teams per country, and 2 boules per athlete)
Age Groups: (the youngest athlete age defines the age group)
1) Below 30
2) 30 – 49
3) 50 up
Shooting (singles only)
Please study how to play petanque shooting https://fipjp.org/images/2021/reglements/Precision_Shooting_Rules2020-official.pdf)
*please note age groups may be adapted prior to competition based on registration numbers
Registration Packages 
Package A
5,000 THB (approx. 213 AUD)
Registration fee
Souvenir pack
Lunch provided at event venue
Special events tickets for the Sport Night Party and Cruise Closing Party can be purchased for 2500 TBH (approx. 107 AUD) each.
Package B
13 500 THB (approx. 574 AUD)
Registration fee
Souvenir pack
Accommodation for event duration (check-in 21/09 to check-out 24/09)

Including breakfast, lunch, and dinner for duration of stay

Ticket to Sport Night Party with transportation
Ticket to River Cruise Closing Party with transportation
Transportation between official accommodation and event venue
Lunch provided at event venue
*Please note that transportation between airport and accommodation is not included in any registration package
*Please note that official accommodation is for a shared two bed room. For an individual room, an additional 4000 THB (approx. 170 AUD) will be charged
To register, go to https://docs.google.com/forms/d/e/1FAIpQLSfIK2y8g6wH77QBJLRFbR4KYOHrBAyZPEFAjYHornD7FnKtcA/formResponse
Schedule
21/09: Arrival, check-in, and registration. Training at competition venue available overseen by National Thailand Petanque head coach and ABSC International Umpire
22/09: Opening Ceremony and Day 1 of competition
23/09: Day 2 of competition
24/09: Day 3 of competition and Closing Ceremony
25/09: Check-out and departure
If you are interested in attending or would like to find out more, please email your expression of interest to Julie Edwards at Transplant Australia Julie.edwards@transplant.org.au