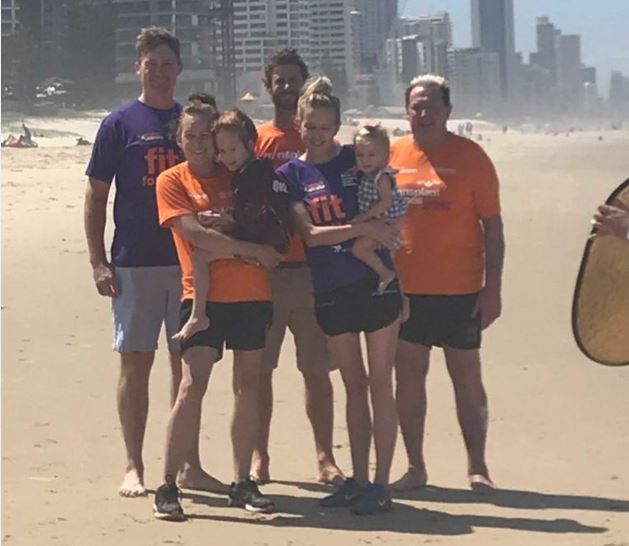 Transplant Australia's Queensland members were out in force, appearing in and helping shoot a 'Welcome to the Gold Coast, home of the 2018 Australian Transplant Games' video.
For every Transplant Games, Transplant Australia makes sure our members see some familiar faces in the promotional materials. This year, Richard Hayes, Lincoln Greaves, Kate Rootsey with husband John and daughter Molly, Kate Willis and daughter Adaline featured in a shoot, conducted by H&T, the Communications Partner of the 2018 Australian Transplant Games.
Actress and TV presenter Katrina Burns, a kidney recipient, donated her services free of charge to help promote the Games. She said "It is my absolute pleasure to support the Australian Transplant Games, organ and tissue donation, and the positive impact donation has on people's lives.
"It is my pleasure to support  and organ and tissue donation" as my way of saying thank-you to my donor and all those involved in changing  recipients lives for the better"
Transplant Australia looks forward to sharing it with our members soon.
The Gold Coast will stage the Games in 2018.
Held every two years to promote the benefits of organ and tissue donation to the Australian public, the Australian Transplant Games also encourages transplant recipients to get back into physical activity and sport, to maintain the health of their transplanted organ.
It is hoped that the 2018 Australian Transplant Games on the beautiful Gold Coast will inspire Aussies to join the Australian Organ Donor Register at donatelife.gov.au, to save more lives and restore quality of life to those on the waiting list.
DonateLife is the major sponsor of the 2018 Australian Transplant Games.