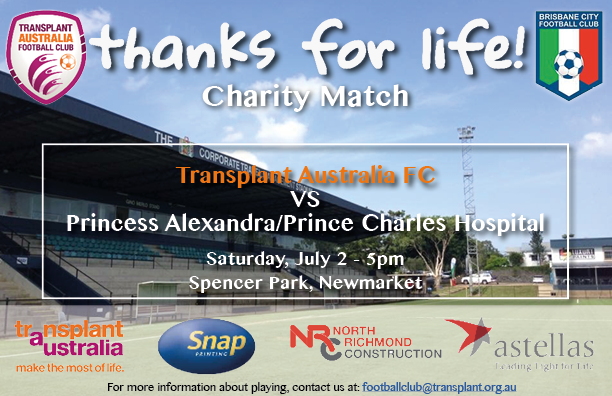 The Transplant Australia Football Club takes to the field again next month with a match against a  Transplant Staff Invitational XI from Princess Alexandra/Prince Charles Hospitals, Brisbane.  These two hospitals are the Queensland Centres for Heart. Lung, Pancreas, Renal and Liver Transplantation.
The match will be hosted by the Brisbane City Football Club at Spencer Park, Newmarket, as a curtain raiser for the National Premier League game between Brisbane City FC v Western Pride FC.
The match will kick-off at 5pm on Saturday July 2 and will aim to raise awareness of the need for organ and tissue donation in Australia, and also to highlight the positive lifestyles that can be achieved with the greatest gift, the gift of life. By participating in one of the world's most loved sports, football (or soccer as we call it in Australia!), transplant recipients can stay active and healthy, making the most of their second chance.
Our Transplant Australia Football Team is well honed following a close defeat and a draw in two matches  held in Sydney in March 2016, with Club Coach David Sargeant confident he has worked out his combinations and promises a slick performance from the transplant recipient team.
Transplant football is taking off around the world. Come along and cheer the Transplant Australia Team as they chase their first victory.
Part of the proceeds raised on the day will go towards research into organ and tissue donation in Australia. Tickets are $5 for adults, $2 for children or $10 for a family.

Details:

– Date: Saturday 2nd July, 5pm kick off
– Venue: Spencer Park, Newmarket
– Host: Brisbane City Football Club
– Teams: Transplant Australia F.C v Princess Alexandra/Prince Charles Hospital XI