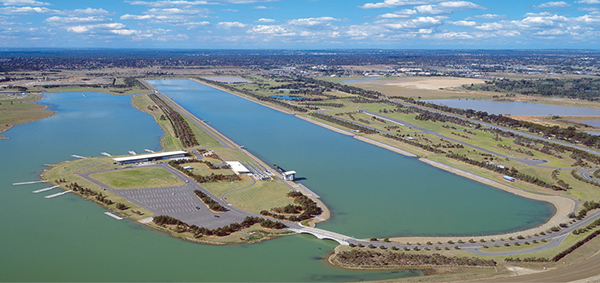 It's an exciting time for us all as we begin the countdown to Australia's most inspirational sporting event – the Australian Transplant Games.
Sat 24th Sept ~ Sat 1st Oct, 2016
The Local Organising Committee is buzzing with Games fever already as we plan all the fine details of each event leading into the 15th Australian Transplant Games. Our aim is to make these games bigger, better and more affordable than ever.
Registration opens on Tuesday 1st December, 2015
About The Games
The Games will be held in state of the art venues including Sydney's International Regatta Centre, Panther's World of Entertainment, Blacktown Swimming Pool, Penrith Golf Club, AMF Rooty Hill, Blacktown International Sports Centre and more. Our opening ceremony will be held at the beautiful Regatta Centre, home of watersports at the Sydney 2000 Olympics, [Pictured above].
In 2016 we're heading to Sydney's Martin Place to spread the life-saving message of organ and tissue donation. We want you to be there to celebrate the number of your transplant years and beat last year's record of "2478 years and counting".
 Order Your Shirt Now
Order your personalised 'Years and Counting' t-shirt to wear as we walk into Martin Place on our Thank You activation day. Wear it proudly between now and The Games – we want all Australians to see the life-saving benefits of organ and tissue donation.
Let's Get Social
For more information about The Games, please visit the official website of the Australian Transplant Games and also like our Facebook page.