It is with great sadness that we inform you of the passing of Gus Mondo, aged 75.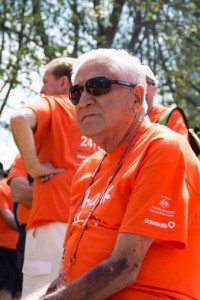 Gus, a Melbourne man, was an early heart transplant recipient and underwent his operation at St. Vincent's Hospital, Sydney, long before the Alfred Hospital Clinic opened in Melbourne.   He would have celebrated 27 years transplanted in January 2016.
He was a true gentleman, a great family man with an infectious sense of humour, who made friends everywhere he went because of his kindhearted nature. He was well respected at the World Transplant Games and many enjoyed the challenge of competing against him. He will be missed here at home and around the world.
Gus has been an active member of Transplant Australia for many years. He became a long distance runner accidentally while trying to keep fit and went on to participate in marathons as well as running events at the Transplant Games.  He will be remembered for his never-give-up attitude which was on clear display at the Melbourne Games in 2014 when he took to the track pushing a walker because he wanted to be part of the action.  As he got older Gus took up other sports at the Ga mes, including Ten Pin Bowling and Lawn Bowls, and won many medals for Victoria, often appearing in the local paper to promote organ donation and the success of transplantation.
Our condolences to his family, wife Marlene, and children Frank, Paul and Danielle.