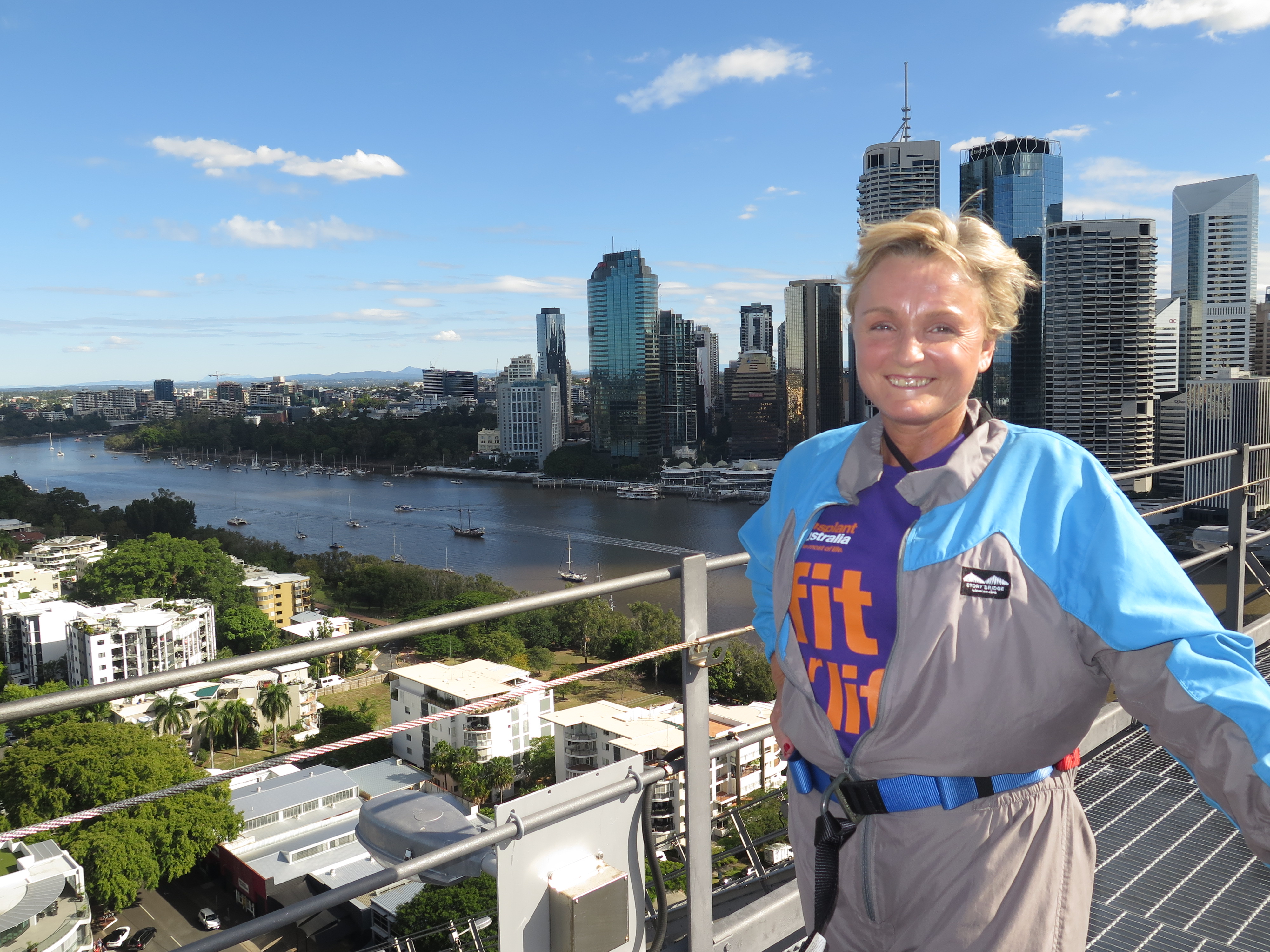 Transplant Australia is delighted to be working with new Fit for Life! Ambassador Jennifer Dicker, a liver recipient from Victoria. The 49-year-old mother of three daughters and stepmother of two sons began her Ambassadorship by kayaking along the Brisbane River and conquering the stunning Story Bridge as part of the official Australian launch of Fit for Life, the initiative to get more transplant recipients more active more often.
One of Jennifer's significant physical-activity-related achievements includes participating in the 3km Fun Run/Walk at the 2014 Australian Transplant Games. Fresh from hospital, but embracing her second chance at life, Jennifer finished the course slowly, one step at a time, at her own pace, and with the assistance of a walking frame.
It was a gritty and admirable act in tribute to her donor.
Now, Jennifer has penned this reflection on her new role:
What a privilege to be selected as one of five Australian Fit for life! Ambassadors for the World Transplant Games Federation and spend a weekend in Brisbane learning about the role.
On Saturday, we kayaked along the Brisbane River and under the Story Bridge with a group of local transplant recipients their families.
A casual BBQ followed with a chance to speak with people on a similar journey with shared experience. Fellow ambassador Monty took a dive in the water while attempting the challenge of standing up in the kayak then turning a full 360 degrees and sitting back down. He did it after a few attempts – very impressive and truly in the spirit of having a go.
We climbed the Story Bridge on Sunday afternoon in brilliant sunshine taking in the spectacular views.  (Back in Melbourne where I'm from it was 9 degrees and raining). I felt very lucky to be alive and it was very special up on top of the world with new friends.
The weekend was a great experience and a fun active way to experience and explore a new city, with some truly inspiring people with stories of triumph, optimism and hope.
Fit for life! aims to encourage more transplant recipients to be more active more often. That might be taking the first steps off the couch, taking the next step in increasing exercise, or setting goals for the future such as Transplant Games.
I first heard of the Transplant Games before my transplant, and four months post-transplant, I participated in the 2014 Melbourne Transplant Games three kilometre fun run with my new liver and walking frame, supported by friends and family.
I'm thrilled to be a part of Fit for Life! and looking forward to spreading the message.  Many thanks to Astellas who sponsor the program.
If you haven't already, join the Australian Organ Donor Register online at www.donatelife.gov.au
Thank you
Jennifer Dicker