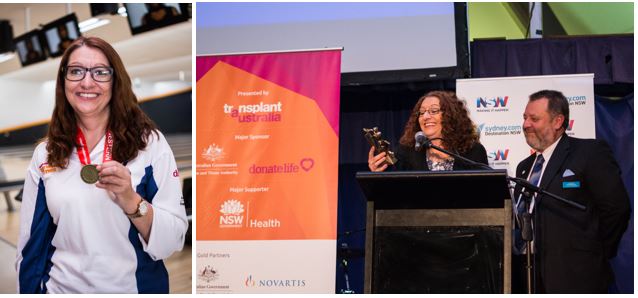 Roxanne Kavanagh, who has been Chair of Transplant Australia's Victorian/Tasmanian State Committee for the last 24 months, has decided to hand over the reins.
The heart-lung recipient, who received her transplant in 1994, wrote, "After two years, (and a pretty full on 2016), I feel that it is time to take a break. I will still see you at some of the events throughout the year.
"Thanks for all the help and laughs."
Transplant Australia CEO Chris Thomas said, "Roxanne has always been a positive life-force in Victoria. She's been great to work with, and it's been great to bounce off her positivity. We look forward to continuing to see and work with her in the future."
Roxanne has been involved with Transplant Australia for many years. She's represented Australia at the World Transplant Games multiple times, and at the British Transplant Games twice.
A fantastic ambassador for Transplant Australia, she is well-liked and respected by her team-mates in Victoria.
Heart recipient and World Transplant Games athlete Mark Dinnar wrote "Roxanne has always been a great support for Transplant Victoria. I met her in 1997 at the World Sydney Games. Always positive and friendly, and proud to show the way."
Personal trainer, Australian Transplant Games 2016 medalist and kidney recipient, Linda Petrovski, wrote, "I've known Roxy now for 4 years and she is truly special and dear to me.
"I met Roxy at the Melbourne Games in 2014, they were my very first games I competed in. She was extremely friendly and very inviting to all the new recipients. She is a friend you can count on, she understands the past through the journey of transplant, believes in the future and accepts you for who you are, and is always re – sending my emails I need to read when I'm really busy and accidentally delete them! Love you Roxy ❤️"
In 2016 Roxanne led a group of 29 Victorians and Taswegians to Western Sydney to compete in the 15th Australian Transplant Games. She also appeared on the front page of her local newspaper, raising awareness for organ and tissue donation.
A valued member of Transplant Australia – thank you for everything Roxanne, and see you soon.
– The Team at Transplant Australia