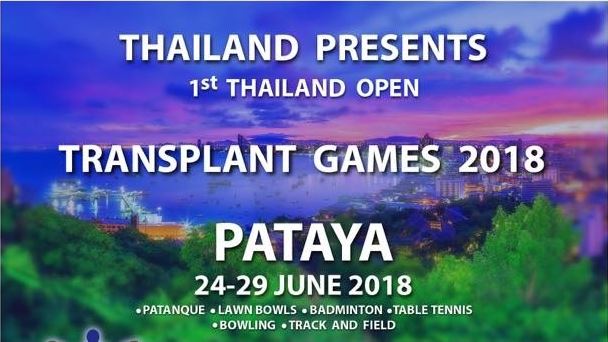 Thailand is inviting Australian transplant recipients, living donors and supporters to their national games from 24th -29th June in Pattaya.
The aims of this event is to:
Promote transplant games in Thailand to the public and neighbouring countries
Encourage transplanted patients to realise the quality of life and benefits of staying fit
Delivering key messages to the public around the importance of organ donation, and how beneficial it is those who have received a transplant
Raise awareness about transplantation and increase organ donation rates in Thailand
Registration costs include accommodation (twin-share), food, sports, social events and transport.
The early-bird special of $650 (USD) closes on 16th March; then the price goes to $750 (USD) and registration closes on 30th April 2018.
If you're interested in attending or want more information please contact Transplant Australia's National Sports Administrator Matty Hempstalk on 0404 177 748 or matty.hempstalk@transplant.org.au.