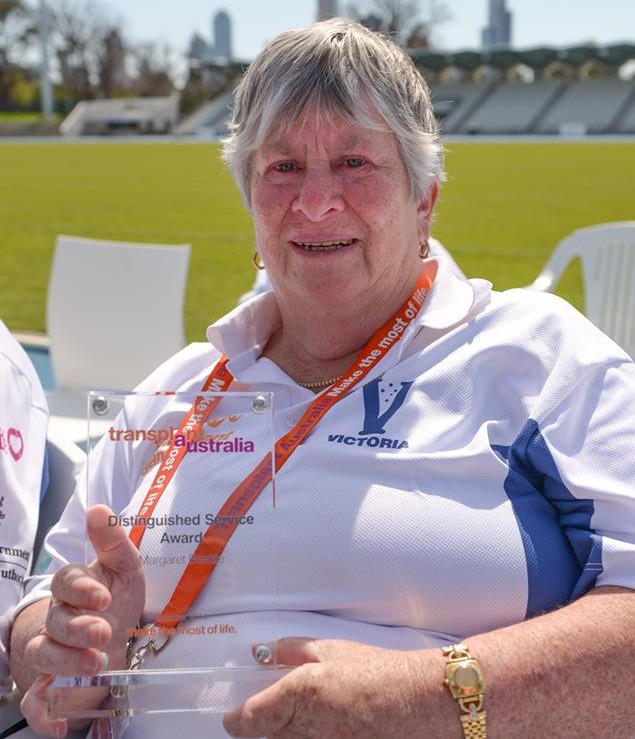 When the Board of Transplant Australia created a new award – the Distinguished Service Award – it was done with people like Marg Beattie in mind. As CEO over the past 13 years I have had the privilege to meet many wonderful people. It has also been a privilege to recognise wonderful and dedicated service to Transplant Australia and the broader transplant community through the bestowing of Life Membership and Special Awards.
The news of Marg Beattie's passing is a shock to many people. Our Victorian/Tasmanian Committee announced her passing today with news that a service to celebrate her life will be held on Wednesday, March 18 at 10am at Tuckers Chapel, Barrabool Hills Centre, 4-32 Province Boulevard, Highton.
Marg was a wonderful advocate for organ donation. She led many projects to encourage university students to sign up to donation. She volunteered tirelessly for both Transplant Australia and DonateLife.
Here she is pictured at the Opening Ceremony of the Australian Transplant Games in Melbourne having just received the very first Distinguished Service Award. She was absolutely thrilled being recognised for her service. Too many times good people pass without us having had a chance to thank them for their commitment. From the staff of Transplant Australia, at least we were able to say thank you when it counted. Thanks Marg, you will be missed. Our condolences to Robert and Marg's family.
Chris Thomas
CEO